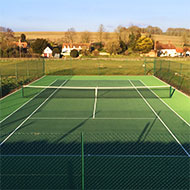 About
COVID-19
The tennis court is now open for play!
Please make sure you are familiar with the latest Government and LTA guidelines before you book. More details at:
https://j.mp/32cVkgO
Bookings are open to non-members who can 'pay and play' up to 24 hours in advance. Alternatively, find out more about Membership by contacting us via this site.